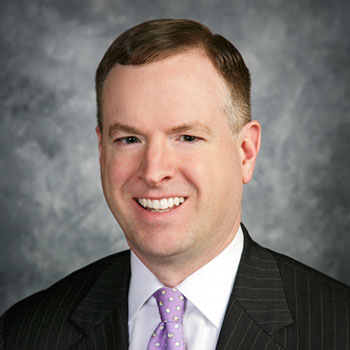 Carter D. Frantz is a partner of Bybel Rutledge LLP where his practice focuses on financial institution regulation, mergers and acquisitions, regulatory representation, legislation and public policy, and regulation of financial intermediaries.
Prior to joining the Firm, Mr. Frantz was chief counsel to the Commonwealth of Pennsylvania Department of Banking and Securities, a position he held since the October 1, 2012, merger of the Commonwealth of Pennsylvania Department of Banking and the Pennsylvania Securities Commission. Prior to the merger, he served as chief counsel to the Department of Banking, a position he was appointed to in 2007 following a year as acting chief counsel. He also served the Department of Banking as deputy chief counsel from 2004 to 2005 and as staff counsel from 1998 to 2004.
As chief counsel to the Department, Mr. Frantz was the primary author of all Department-initiated legislation, including the most comprehensive overhaul of Pennsylvania banking laws since 1965, the consolidation of Pennsylvania's mortgage laws into the Mortgage Licensing Act, implementation of the Federal Secure and Fair Enforcement for Mortgage Licensing Act of 2008 and extensive revisions to the Pennsylvania Securities Act of 1972. He was also responsible for the execution of all policy efforts of the Department, including regulations, policy statements and legal opinions and had frequent interaction and coordination with Federal and State financial services regulators.
Mr. Frantz is a frequent speaker at continuing legal education programs and industry conferences on topics related to financial industry regulation, and was selected as a Rising Star in the area of banking law by Pennsylvania Super Lawyers magazine in 2008.
Professional Affiliations, Awards, Boards
Dauphin County Bar Association
Pennsylvania Bar Association
Pennsylvania Super Lawyer Rising Star 2008
Professional Presentations and Publications
"Issues in Cannabis Lending," 2022 PACB Convention, Orlando, FL (September 2022)
"Ethics," 2022 PaBankers School of Banking, State College, PA (June 2022)
"Due Diligence That Delivers Value – Panel Discussion," 2022 M&A and Capital Raising Seminar, Hershey, PA (June 2022)
"Ethics," 2021 PaBankers School of Banking, State College, PA (June 2021)
"Update on Financial Services and Medical Marijuana in Pennsylvania," 2021 PACB Convention, Scottsdale, AZ (September 2021)
"Update on Financial Services and Medical Marijuana in Pennsylvania," 2020 PaBankers Association Wealth Management & Trust Conference, Virtual (November 2020)
"Update on Financial Services and Medical Marijuana in Pennsylvania," 2019 PaBankers Association Wealth Management & Trust Conference, Hershey, PA (November 2019)
"Medical Marijuana in Pennsylvania: Banking and Employment Issues," (w/Catherine Walters), 2019 PaBankers Convention, Palm Desert, CA (May 2019)
"Financial Institution Regulatory Outlook & Update," 2021 M&A and Capital Raising Seminar, Virtual (April 2019)
"Organizational Challenges – Banking the Medical Marijuana Industry in Pennsylvania," 2019 The Directors Institute, Hershey, PA (June 2019)
"It's All About What is Behind the Curtain – Due Diligence and its Impact on Value," 2019 M&A and Capital Raising Seminar, Hershey, PA (June 2019)
"Loan Participations: Perils and Pitfalls," 2018 PaBankers Association Lending Conference, Hershey, PA (November 2018)
"Financial Services and Medical Marijuana in Pennsylvania," 2018 PaBankers Association Wealth Management & Trust Conference, Hershey, PA (November 2018)
"Navigating the Regulatory Approval Process," 2018 M&A and Capital Raising Seminar, Hershey, PA (June 2018)
"Financial Services and Medical Marijuana in Pennsylvania," 2017 PaBankers Wealth Management & Trust Conference, Hershey, PA (November 2017)
"Regulatory Issues: How to Interpret Bank Examination Findings and What to do Next," 2017 Directors Institute, Hershey, PA (June 2017)
"Legal and Regulatory Update," BDO Client Seminar 2016, Doylestown, PA (December 2016)
"Navigating the Regulatory Approval Process," 2016 M&A and Capital Raising Seminar, Hershey, PA (June 2016)
"Regulatory Issues: Analyzing and Choosing the Right Charter," 2016 Directors Institute, Hershey, PA (June 2016)
"Regulatory Issues: How to Interpret Bank Examination Findings and What to do Next," 2016 Directors Institute, Hershey, PA (June 2016)
"Lending Law 2015: The Good, The Bad and the Ugly," PA Bankers Lending Conference, Hershey, PA (November 2015)
"Disclosure Regulatory Update," Bybel Rutledge LLP 2016 SEC Seminar, Hershey, PA (November 2015)
"Modernization of State Banking Laws," CSBS Legal Seminar, Charleston, SC (July 2015)
"Overview of the Banking Regulatory Regime and Directors' Duties," 2015 Directors Institute, Hershey, PA (June 2015)
"Navigating the Regulatory Approval Process," Bybel Rutledge 2015 M&A and Capital Raising Seminar, Hershey, PA (June 2015)
Practice Areas:
---
Bar and Court Admissions
Supreme Court of Pennsylvania
U.S. District Court for the Middle District of Pennsylvania
---
Education
The Dickinson School of Law, J.D., 1998
The Johns Hopkins University, B.A., 1995
---